Posted by William Kimmell on 18th Jul 2021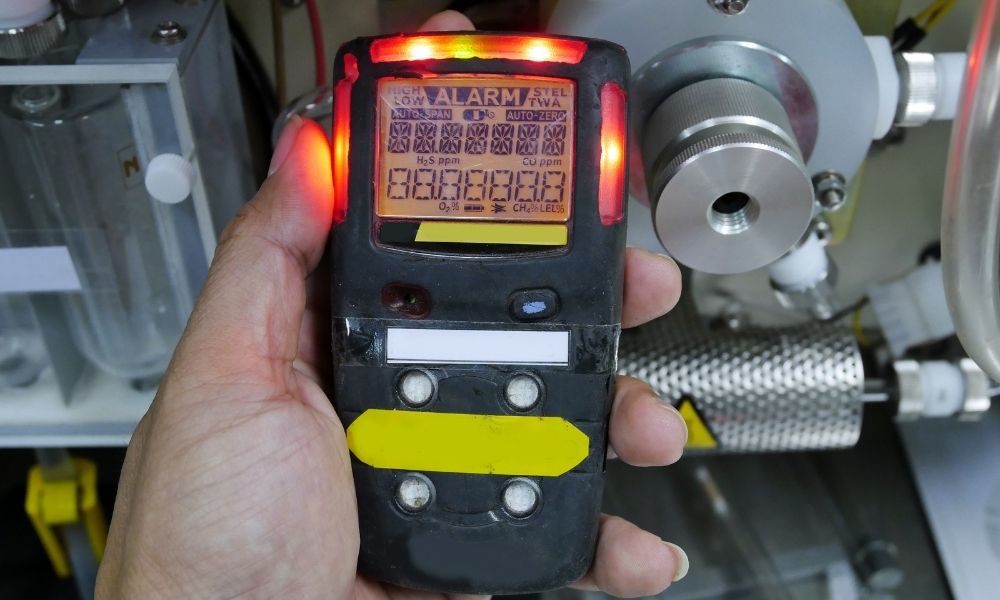 Safety is always a priority in any work environment, but industrial facilities require a special level of care and consideration. For example, industrial plants need tools for monitoring gas leaks and other potential hazards. Without the right precautions in place, employees can fall victim to avoidable accidents.
To ensure you can keep employees safe from hazardous gases, this guide will walk you through the most common types of industrial gas detectors. Choosing the right one is easy, but it is daunting for newcomers to find the perfect match. There are so many different gas and vapor detection devices on the market that anyone can easily find themselves buying the wrong one if they don't know what they need to monitor. By reading the guide below, you can learn how to find the best gas monitoring devices that suit your workplace safety needs.
Mobility
There are many different applications for various types of industrial gas detectors: choosing the right one comes down to considering unique factors in your workplace, including mobility needs. In other words, where do you want to set up your gas detector? Likewise, how frequently will you need to transport the detector around the workplace? To help you answer these questions, let's break down three common types of gas detectors—personal, portable, and fixed.
Personal Gas Detectors
When industrial workers traverse through hazardous or unpredictable confined spaces, they must consider the air quality at all times. Personal gas detectors are air monitoring devices that attach directly onto an employee, traveling with the individual wherever they go. That way, the employee will know that anywhere they travel to throughout the workplace is a safe or unsafe area.
As we'll delve deeper into this later, you can outfit any employee with either single or multi-gas personal detection devices. Personal detectors are one of the most common gas monitoring devices around, and for a good reason. High-quality portable detection devices can help employees stay vigilant as long as employers pick up reliable devices from reputable manufacturers.
Portable Gas Detectors
The portable gas detectors aren't too far off from a personal monitoring device, with both offering convenient mobility around job sites. That said, portable gas monitors are specifically handheld devices employees can easily move around facilities, from room to room, to calculate air quality successfully. For instance, RAE Systems' ToxiRAE Pros are small and compact, looking somewhat similar to a walkie-talkie.
On the other hand, RKI Instruments' 04-series single gas monitors are squarer in appearance, resembling a device you might use to unlock your car door. Either way, both options are lightweight, small, and convenient to carry around. Plus, personal units aren't the only detectors that come with single or multi-gas capabilities—you can find various portable monitors that offer the same detection options.
Fixed Gas Detectors
Sometimes, a lack of mobility is a positive attribute in gas monitoring devices. In certain industrial work environments, there are areas constantly prone to harmful gas exposure. Thankfully, fixed detectors are the best tools for keeping the aforementioned areas under regular watch. Fixed gas detectors also go by the moniker "stationary gas detectors," which doesn't create much mystery surrounding the device's purpose.
These gas monitors are installable in work zones, providing a consistent means of watching air quality. In addition, with a fixed detector, employees are swiftly alerted to the presence of hazardous gas when they're in another room entirely. A fixed gas detector's usefulness and convenience in industrial work environments are thanks to the loud alarms that high-quality options have, ensuring no employees enter a dangerous workspace unexpectedly.
Gas Detection Parameters
Besides mobility needs, another significant way certain gas detectors differ is how many gases they can monitor. Thankfully, finding the best option for your needs is more straightforward than you might expect. For example, you'll find both single and multi-gas options among our selection of portable gas detectors. Below, we'll dive deeper into what exactly those two options mean.
Single Gas Detectors
Every work environment has its unique set of requirements that all machinery must account for, including the gas detectors. For instance, an industrial facility might not know how many hazardous gases are present in any given area. On the other hand, you might need to monitor one or several specific gases. Thankfully, there's a gas detector for every occasion.
If you only need to monitor for one type of hazardous gas, then a single gas detector will get the job done. Carbon monoxide (CO), phosphine (PH3), nitrogen dioxide (NO2,) and sulfur dioxide (SO2) are just a few of the gases you can find a suitable single gas detection device for easily.
Multi-Gas Detectors
As mentioned above, some worksites have multiple gases they need to monitor regularly. Likewise, you might not know what hazards are present in the work zone air. Both circumstances are common, so, luckily, there are tools for accommodating such needs.
For instances like these, you should use multi-gas detectors. As the name suggests, a multi-gas detector tracks more than one hazardous material in the area. For example, at TG Technical Services, our library of multi-gas monitors includes the RKI Instruments GX-3R Pro, which has sensors for registering gases such as carbon monoxide and hydrogen sulfide (H2S) simultaneously. If you need to detect multiple gases at once, don't buy several single-gas detectors—seek a suitable multi-gas option instead.
Recognizing & Preventing Health Hazards
Thanks to this comprehensive breakdown, you should have a better understanding of how to navigate the industrial gas detector market. Although many gases and vapors are invisible to our eyes, they still pose a significant threat to employee health and workplace safety. The presence of dangerous gases and vapors creates the potential for explosions or fires.
Besides causing property damage, spontaneous combustions in the workplace can hurt or kill nearby personnel. Additionally, inhaling toxic materials can severely damage an employee's lungs, kidneys, and other parts of their body. Although these workplace accidents are all different, they share the commonality that they're easily avoidable with the right preventative safety measures in place.